We manufacture our agitators according to your very own requirements and specifications. The following products are only examples that can be adjusted to your specific requirements due to their modular construction. That way, we achieve maximum flexibility for our product range and are able to individually prepare ourselves for your process-dependent requirements.
Due to the many years of experience I was able to acquire in that particular branch, we are looking back on more than twenty years of expertise regarding the production of agitators for the chemical industry, electroplating and water treatment. When dimensioning motors and gears, future use is also considered  - and the same applies to the selection of the customised materials.
We pay great attention to the quality and durability of our products. Therefore, all our agitators are subjected to intense tests prior to delivery. In doing so, we attach great importance to the specifications of your order, aside from flawless serviceability.
We deliver special models fast and at reasonable prices.
In case of maintenance, fast service goes without saying.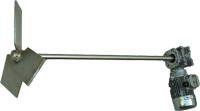 Type RWG ... V4A 14571, PPH, PVC, PVDF
Gear blender as standard and special models

Fields of application:
Sewage technology, electroplating, water treatment, chemical industry, paint and coating industry, environmental engineering and many more.

Processes:
Circulation, admix, dispersion, suspension,  homogenising, dissolving, emulsifying, heat exchange and neutralising.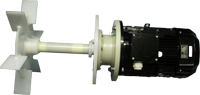 Stainless steel ((V4A / 1.4571), plastic (PPH-PVC-PVDF)

for water-like media


High-speed blender with balanced and fixed agitator shaft
Maintenance-free
1500 RpM, 1000 RpM, 750 RpM
Motor from 0,12 KW - 5,5 KW in 3 revs